Studiomaster has announced a new high performance, ultra-portable injection-moulded PA series. Studiomaster's most powerful lightweight PA ever, it is available in both active and passive variants.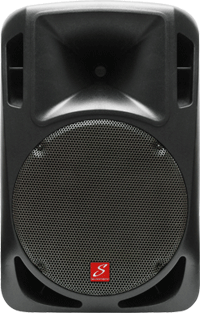 Launched at the 2012 Namm show, the Studiomaster XPX series comprises two two-way injection-moulded trapeziodal cabinets. These feature 12-inch and 15-inch neodymium drivers with 3-inch voice coils, and a 1.7-inch compression driver with 1-inch throat in the XPX12, and 3-inch compression driver with 1.5-inch throat in the XPX15. Class-D bi-amplification with switch-mode power supplies delivers 500W RMS to the LF and 100W RMS HF power in both the XPX12A and XPX15A.
These cabinets are light and portable despite their power, with the larger XPX15A weighing less than 20kgs (45lbs). Both cabinets feature pole-mount fixings and M10 hanging points, and dual Speakon connectors.
The series is completed with the XPX15SA and XPX18SA, active subs, featuring 15-inch and 18-inch neodymium drivers respectively, driven by 1.6kW amplifier with class-D switch-mode power supply.
'We have been developing the XPX series as a high-quality cabinet, featuring great performance and feature set, which in the passive models will perfectly complement the new Horizon powered mixer and in the active models, supplement the hugely popular current VPX active range,' says Soundking Group Europe Marketing Manager, Patrick Almond
More: www.carlsbro.com