The Alcons QB363 MkII is a modular column bass system, designed as a low-frequency extension (LFE) system to the company's Q-series line-source column systems.
The QB363 MkII can be stacked or flown in multiples as building block to form bass arrays, for obtaining low frequency projection and throw control in acoustically challenging spaces or in long-throw applications. The controlled (cylindrical) projection of the Q-series can be extended down to the lower frequencies by enlarging the LFE array length through adding extra QB modules.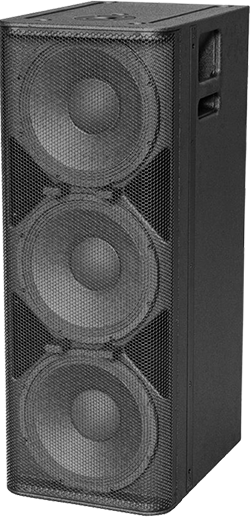 The QB363 MkII also offers a base for a slim profile stack system with the QRP40 point-source column, for applications where highest audiophile performance with increased projection control needs to be combined with an unobtrusive design appearance.
The system delivers a very accurate low frequency response with highest output under lowest distortion possible. The new-generation 12-inch transducers feature a large, dual-3.5-inch voice-coil Neodymium motor, enabling a significantly-extended excursion, while maintaining a high sensitivity. The tightly-spaced, direct-radiating Neodymium drivers breathe through large, symmetrically-positioned bass reflex vents, increasing overall output while reducing port-compression. The ports are part of the cabinet's integral structure, for increased rigidity under a minimal system weight.
The 5.3Ω system impedance presents very efficient amplifier channel loading, when assembled in multiples; An array of six 12-inch woofers can be driven by one Sentinel channel.
The QB363 is powered and controlled by the ALC amplified loudspeaker controller. Through the integrated processing and feedback, the ALC offers QB363-specific drive processing with optimal response and long-term reliability. The integrated factory presets in the ALC drive processor offer gain, phase, array-length and filtering matching with all Alcons pro-ribbon sound systems.
'After the recent introduction of our QRP40 larger-format point-source column, we received many requests for a matching subwoofer to expand the QRP40 into a full-range stack system,' says R&D head, Philip de Haan. 'At the same time, we also wanted a more economical solution for taller bass arrays, as the QB242's bigger brother. Combining both demands lead to the QB363 MkII., plus the fact that the first edition of the QB363 already dates back to 2007.
'With the QB363, we extended the problem-solving power of the Q-series. By means of the simple PINM10 accessory, our QRP40 point-source column forms a very high-output sleek-design system with the QB363, providing a correct listening height, while maintaining full horizontal panning capabilities of the QRP40. This toe-in ability is a nice feature to obtain the perfect hearing experience.'
More: www.qrseries.info