Amate Audio has announced the ultra-compact, high performance X14FD; a point-source, dual-purpose front-of-house PA and stage monitor system.
The X14FD is the latest and the most powerful iteration of the company's coaxial dual-purpose designs, following the X12CE and X15CE models and including the X14T, a pior 14-inch design. The X14FD incorporates Amate Audio's uprated Active+ digital power and control platform with high-order FIR filtering and Dante audio networking.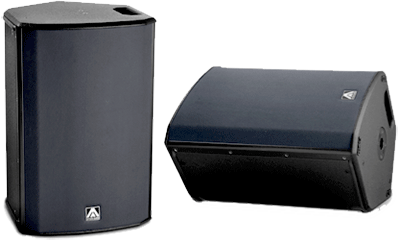 A single 14-inch coaxial driver provides an full frequency response, characterised by a low-frequency response comparable with a conventional 15-inch driver, combined with the mid-frequency resolution of a conventional 12-inch driver; together with transparent HF and good peak handling. Use of a single driver enables the design of an enclosure with a greatly reduced form factor, relative to the X14FD's power and frequency range.
With its high-output and low-profile, asymmetric cabinet the X14FD can be hung, flown, stacked or pole-mounted in FOH, front and side fill PA applications or, floor-standing on its horizontal axis, deployed as a stage monitor. Portability and handling is made easy with top and bottom flush carry handles. Integrated rigging points and pole-mount socket facilitate easy rigging or stacking of the cabinet with its 'tour proof ' construction of reinforced Baltic plywood and weather resistant Polyurea coating with protective rubber profiles.
It can be used as a monitor with the company's flagship X212AFD line array, both in horizontal floor monitor and vertical side-stage or drum monitor applications. As a highly portable FOH system it can be matched with the Xcellence series sub-bass systems.
Onboard power and control from the Active+ electronics includes 1.5kW class-D bi-amplification and DSP system management, with LCD colour touchscreen operation and monitoring. Active+ provides a suite of tools to set up and tune the system. Features include high-order FIR filtering, for fully phase coherent PEQ adjustment and absolute phase alignment of common cabinet couplings, independent dual limiting (RMS thermal and peak) on each power channel, high-order crossovers, delays of up to 300ms/100m, and EcoMode power settings (including auto input signal detection).
System presets optimise control parameters for configurations with other Xcellence series loudspeaker systems in the most commonly occurring applications. Additional parameter adjustments are storable in PIN protected user-settings. Dante audio networking and full Ethernet remote control, via the company's latest DSP Studio 3 software, are via dual Ethernet ports; Wi-Fi remote control is possible with the CWK-D Wireless Communication Kit.
'In continuing development of compact, high performance two-way loudspeaker systems, designed around advanced coaxial drivers, we have engineered even greater reductions in cabinet volume with the use of this new driver in the X14FD,' says International Sales Manager, Jordi Amate. 'Despite achieving a form-factor with the lowest possible profile in its stage monitor application, the new design offers improved ergonomics. The new driver also provides improved long-throw coverage for outdoor use.
'Added to this are all of the operational advantages of our very latest generation power and DSP control electronics, standard in our new Xcellence series models. It is a truly industry leading combination, and includes an optimised monitor preset with enhanced voice control and zero microphone feedback issues.'
More: www.amateaudio.com