Work Pro Audio – the installation and professional audio division of Spanish manufacturer Equipson – has launched the Entar range of two-way professional loudspeakers for the installation and live sound markets.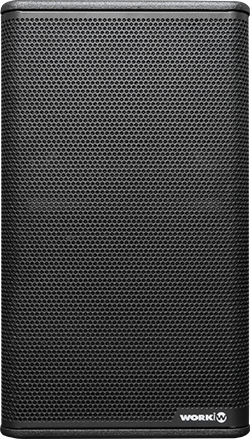 The Entar name combines ENTertainment and ARchitectural, reflecting the loudspeakers' ability to accommodate both of these diverse applications. Available as both passive and active models in a variety of different sizes, Entar cabinets are manufactured from high-density plywood, with construction and shape suited to light PA duties. They can also be used as stage monitors, or for front, side or rear fill.
The Entar Series has four two-way passive loudspeaker models offering a choice of 8-inch, 10-inch, 12-inch or 15-inch woofers. Power outputs range from 400W to 600W.
The Series also includes three active models equipped with class-D amplifiers and either 10-inch, 12-inch or 15-inch woofers. Each of these loudspeakers has a controllable DSP that includes EQ presets, location presets (Pole, Monitor, Bracket), selectable HPF filter, shelving EQ, limiting and front LED mode (on, off, limiter). Active models also include a volume knob and line/mic and link/mix switches.
'We have been selling our Mino range very successfully over many years,' says Equipson CSO, Juan Jose Vila. 'However, customer feedback indicated that an upgrade was in order. People were still very happy with the range but, after more than a decade since their launch, we felt it was time to renew the design and install better quality components. The result is Entar, which hits both of our targets and gives customers an attractive, up to date range of competitively prices, high performing loudspeakers.'
All Entar Series loudspeakers are finished in black and have black steel grilles for a sleek, modern look.
More: www.equipson.es