New to the Danley Sound Labs BC subwoofer line, the BC215 offers the same low-frequency directivity as its predecessors by using the same horn design philosophy, but using multiple horn exit options, to offer directivity control for use in numerous possible configurations.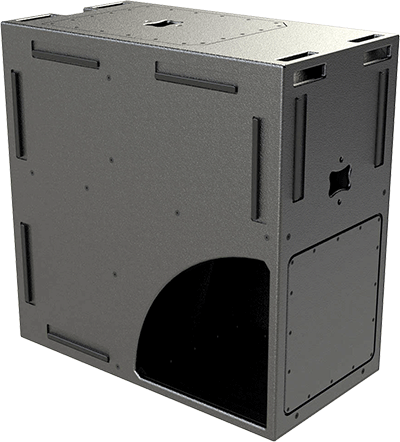 Developed out of a military project undertaken by Danley, the BC design originally used an extremely high-output, low-frequency device that would fit between the skids of a helicopter. From that project the BC412 was born, and subsequently the BC415 and BC218.
Joining them, the BC215's (45-inch x 45-inch x 24-inch dimensions allow it to stand-up to fit below a standard 48-inch stage deck or be configured to lay-down and have a 24-inch profile when the horn exit is changed. The stand-up configuration offers the greatest directivity, and can be coupled in a pair or a quad configuration for maximum low-frequency directivity without the need for digital signal processing.
The BC215 has a 33Hz to 180Hz bandwith, and outputs 137dB continuous (143dB peak). It can handle 3.4kW continuous and 13.6kW peak at 2Ω, and weighs in at 360lb.
'The unique nature of having multiple horn exits is something we have done before on our TH212 so, when we had the request to have a BC subwoofer that was as flexible as that, we went to work,' says Director of Sales & Marketing, Skip Welch. 'The BC215 is just another ingenious design from Tom Danley, and we couldn't be more excited to be launching this product.'
More: www.danleysoundlabs.com