HK Audio has added to its Premium PR:O series with the launch of the Move 8 battery-powered loudspeaker.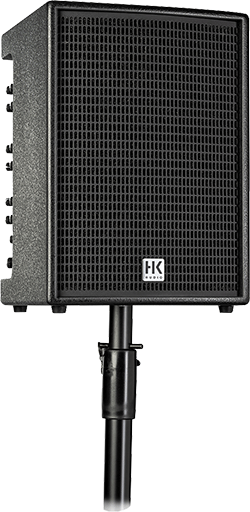 In contrast to previous battery-powered speakers, Move 8 has a slot for two rechargeable batteries (both batteries are supplied with the speaker), which are either inserted simultaneously to extend the running time or inserted alternately to ensure uninterrupted playback ('Hot Swap'). Thanks to the external quick charger (optional accessory), endless, uninterrupted battery operation is possible.
On the input side, Move 8 has a well-equipped mixing console. The two mic/line channels with XLR and jack inputs and the special instrument channel each have their own bass and treble control and adjustable reverb. There is also an aux channel for playback devices, which offers audio streaming via Bluetooth 5.0. in addition to the stereo mini jack input.
Another feature on the instrument channel offers Celestion cabinet simulations (impulse response) of the most popular guitar speakers, including Celestion Greenback, Celestion V30 and Celestion Blue. This makes Move 8 an active, battery-powered speaker with guitar preamp options.
The Move 8 app (available free of charge for iOS and Android devices) allows the speaker to be controlled remotely and offers additional features such as a karaoke function with voice cancellation and pitch adjustment, as well as modulation effects for the instrument channel.
Premium PR:O Move 8 is furnished with a highly efficient 60W class-D power amplifier driving an 8- bass woofer and a 1-inch horn. The sturdy, low-resonance wooden housing lays the foundation for a clear, uncoloured sound. The multifunctional housing design means it can be set up as a floor monitor, on a high stand or on a table.
'The Move 8 combines impressive acoustic performance with superb battery management and fascinating features that are truly unique in its class', says HK Audio Senior Product Manager, Rüdiger Forse. 'This combination makes it a real all-rounder for all musicians, DJs, speakers, music enthusiasts and audio professionals. With the Premium PR:O Move 8, HK Audio has invented a new level of freedom in the use of mobile loudspeakers.'
The battery-powered Premium PR:O Move 8 will be available in Q3 2020.
More: http://hkaudio.com