Outline has made further additions to the V-Series range of portable loudspeakers, which now comprises five separate pre-configured rigs promising speed and simplicity of set-up, and ease of transport to users who transport and operate their own sound systems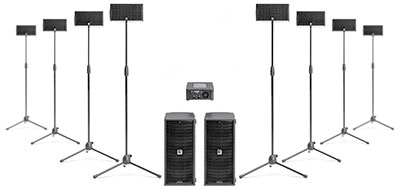 The range spans the super-compact V6.5 kit (under 40kg for the complete system) that will fit comfortably in the back of a small car but has a maximum power output of 3kW to the 12kW V15 kit (an easy one-man lift). The systems are designed to appeal equally applicable to bands, solo musicians, presenters, entertainers, comedians, DJs and many other user-operators.
Outline's V-Series systems are made in Italy from top-grade components. Unusually at their price point, all the loudspeaker enclosures feature high-quality birch ply construction (not plastic), finished in a polyurea coating – the same materials and finishes as Outline's flagship touring systems.
The V-Series also shares its 'sonic fingerprint' with the rest of the Outline range, making it easy to augment a own system with additional gear for larger events. Despite their power and versatility, V-Series are plug-and-play solutions – the absolute minimum of connections and adjustments are required before performance.