Funktion-One has launched two compact loudspeaker models – the F5 speaker and the SB8 bass unit.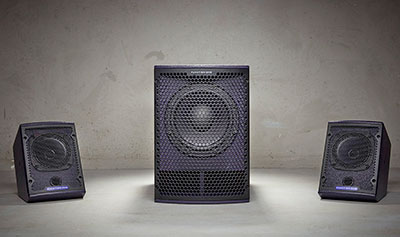 Billed as 'a unique loudspeaker innovation, which offers an extremely balanced and natural sound quality that's not often found in loudspeakers of its size' the Funktion-One F5's ultra compact dimensions and high output mean it is suited to a wide range of applications, including distributed public address systems, bars and restaurants, as well as domestic applications, such as home cinemas, desktop monitoring and home music systems.
The F5 features a Funktion-One bespoke wide-range, high-sensitivity 5-inch driver, an integrated high-pass filter for low frequency protection, angled cabinet design for desktop use and a 3/8-inch microphone stand mount.
The Funktion-One SB8 is an extremely compact, yet powerful and convincing bass unit. It is suited to applications where a conventionally sized subwoofer is too large or obtrusive, such as in bars, restaurants, retail and galleries, as well as domestic applications. The SB8 features a high-sensitivity 8-inch bass driver and requires no EQ or controller, only crossover filters. A self-powered version will be made available soon.
'We're happy to introduce the F5 and SB8,' says Funktion-One founder, Tony Andrews. 'Though they are small in size, they are capable of the high-performance standards that we demand from all of our loudspeaker innovations.'
More: www.funktion-one.com