d&b audiotechnik has announced an addition to the company's SL-Series line array family in the form of the KSL-Sub. Available in both flown and groundstack (G) versions, the KSL-Sub has a small, lightweight format that extends the frequency response of a KSL System down to 36Hz.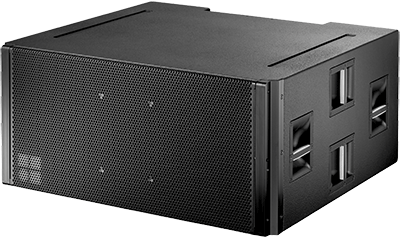 The KSL-Sub and KSL-GSub subwoofers operate with two forward-facing 15-inch drivers and a single, rear-facing 15-inch driver which, driven with two-way active amplification, provide uncompromised cardioid directivity control.
Measuring 1,000mm x 900mm x 450mm (39.4 x 35.4 x 17.7 inches) in size, and with a sheer weight of 82kg (181lbs), the KSL-Sub delivers an output of 139dB driven by d&b D80 amplifiers.
The KSL-GSub stands at a height of 450mm allowing for under-stage deployment. Using a new KSL-Sub adapter frame the KSL-Sub can be deployed above KSL-Tops as part of a flown array. Completing the comprehensive System package, and designed to fit within standard sized shipping container and trucks, it is available in touring carts with protective covers. The 'hybrid' touring cart allows users to leave the KSL flying frame on top of the KSL-Sub adapter frame below the subwoofers during transportation if they choose.
'The KSL subwoofers are the next step in d&b's continuing obsession with innovation, efficiency, performance and directivity control,' says d&b audiotechnik Product Manager, Werner 'Vier' Bayer. 'The KSL-System is growing and we will soon introduce new options for permanently-installed applications. Watch for integration-specific KSL cabinet design options and an addition to the d&b installation amplifier portfolio.'
More: www.dbaudio.com