JBL has announced the IRX Series portable PA loudspeakers for musicians, performers and presenters. The IRX Series of portable PA loudspeakers includes the IRX108BT, which features an 8-inch woofer, and the IRX112BT, which features a 12-inch woofer.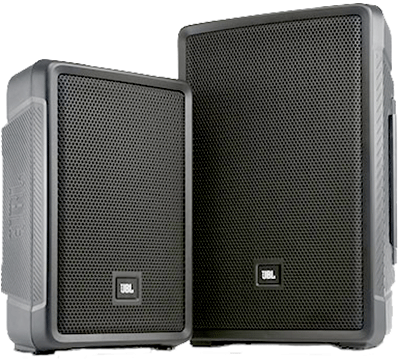 A durable, lightweight design makes IRX Series speakers easy to transport, while features like Bluetooth audio streaming, custom application-based presets and automatic signal processors make it easy to optimise their performance for a wide range of applications. Equipped with a highly efficient 1.3kW amplifier, IRX Series speakers claim detailed sound with minimal distortion, even at high levels.
Four custom EQ presets optimised for common performance scenarios help simplify setup with push button ease. Further features include built-in dbx Automatic Feedback Suppression, and one-touch ducking to automatically lower music volume when speech input is detected.
With an ultra-lightweight cabinet and ergonomic handles, IRX Series can be easily transported and lifted, providing maximum portability. A custom, road-ready grille features a tight-gauge, reinforced honeycomb pattern with a bevel for added durability without compromising acoustic performance.
Featuring two combination XLR/TRS inputs with professional-grade preamps, IRX Series speakers provide crystal-clear sound for microphones, playback devices and mixing consoles. One-button Bluetooth connectivity makes it easy to stream audio from mobile devices or link two speakers to provide additional coverage and create a true stereo image.
The IRX Series consists of two speaker models, for a variety of applications. The IRX112BT features a 12-inch woofer for an extended frequency range down to 53Hz and a maximum SPL of 129dB, while the IRX108BT features an 8-inch woofer with an extended frequency response down to 54Hz and a maximum SPL of 127dB. Both models feature an integrated pole mount to elevate the speakers for improved performance in PA applications.
The JBL IRX108BT and the JBL IRX112BT will be available from February 2020 priced at £299 RRP inc VAT and £349 RRP inc VAT respectively.