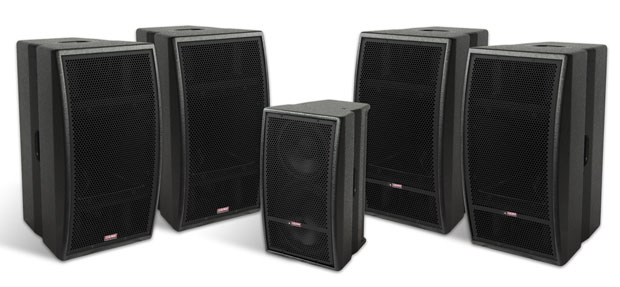 Designed for use in corporate A/V events, small-to-medium-sized live sound reinforcement, performing arts venues, houses of worship, retail spaces, ballrooms, theatres, theme parks, EAW's KF range of loudspeakers includes two externally powered models (90° x 45° and 60° x 45°) and three comprehensively integrated models (NT versions of these and a 10-inch/8-inch coaxial model).
The models include the KF364 and KF394 three-way loudspeakers. When used in conjunction with EAW's UX8800 Processor and its proprietary EAW Focusing, the KF Series provides the pinnacle of performance in any venue.
The KFNT models include the KF200NT, KF364NT and KF394NT. Like the non-NT versions, these feature neodymium components and co-axial mid/high-frequency components, as well as EAW Focusing processing, software-accessible DSP and the proprietary U-Net network.
The
KF200NT
is a scalable system aimed at corporate A/V, performing arts venues, house-of-worship, retail, theatre and theme park applications. It uses a single 10-inch woofer with 2.5-inch voice coil and a coaxial mid-high driver with 8-inch cone MF with 2-inch voice coil, and 1.75-inch voice coil compression driver HF. These are driven by a matched 1.5kW amplifier.
Engineered by EAW's US-based design team, it features EAW Focusing processing, software-accessible DSP and the proprietary U-Net network.
EAW's NT units incorporate a revolutionary active DSP (digital signal processing) technology known as EAW Focusing. In basic terms, EAW Focusing corrects the sonic problems inherent in conventional compression driver phase plugs, horns and LF driver technology. The NT's integral electronics are based on high-efficiency amplifier technology, and feature field-replaceable modules.
A variety of available accessories are available, offering both portable features and M10 installation points. For contractors and system integrators who require added flexibility, available universal accessories include trim plates that hide handles, adjustable U-brackets, quick-release flytrack segments that integrate into any enclosure and adjustable legs for use as a stage monitor.
More: www.eaw.com