EM Acoustics has 'enhanced the look and feel with a number of aesthetic changes' of its EMS Series and added a 10-inch model, the EMS-101X.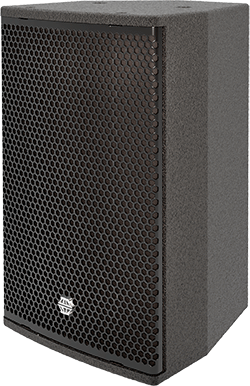 The EMX-101X incorporates a new low-frequency driver designed in large part by EM Acoustics R&D Director, Ed Kinsella. 'Ed didn't want to build anything around any of the 10-inch drivers previously available,' says EM Acoustics Operations Director, Mike Wheeler. 'He simply felt that existing units would not deliver the outstanding results that we were pursuing. So, true to form, he designed one himself. As a result we've got exactly what we and our customers were seeking; a great-sounding 10-inch full range passive box that sits perfectly between our 8-inch and 12-inch offering, both in physical size and output.'
The EMS-156 and the EMS-159 loudspeakers – formerly the MSE-156 and MSE-159 – have both benefitted from the introduction of a newly developed three-step polyurethane paint finish that is exceptionally tough, inherently weather-resistant, and promises 'a sleeker, more modern look'. For prolonged outdoor use, outdoor versions can also be supplied wth stainless steel grilles and weather-resistant connectors. Other enhancements include a stylish new grille design and painless access to the rigging points.
'The EMS Series owes its popularity to two main factors,' says Wheeler. 'First, exceptional sound quality, which stems from our signature passive crossovers and Ed's truly unique design; and secondly the sheer versatility of the range. The new additions have increased that flexibility; the range comprises two-way passive loudspeakers from 4-inch to 15-inch, and we now have a loudspeaker, or combination of loudspeakers, for just about every possible scenario within the EMS Series. That includes everything from foreground, background and close-fill applications to under-balcony, delay and effects, to zoned, distributed systems and main PA applications. The list is endless.'
More: www.emacoustics.co.uk