The Alcons LR18/120 is a three-way, 'compact-mid-size' line-source sound system, combining a 120° wide dispersion high sound quality with high dynamic SPL capabilities and throw.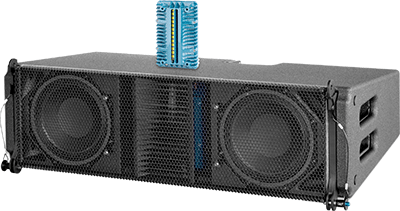 The design uses Alcons' pro-ribbon technology for mid and high frequencies, which enables the LR18/120 to offer an intuitive linear response, with optimal intelligibility and non-compressed identical tonal balance at any SPL, with high gain-before-feedback performance.
The cylindrical wavefront of the multiple-patented, purpose-designed RBN702rs 7-inch pro-ribbon transducer and the acoustically and electronically symmetrical component configuration cater for a very coherent pattern control in both the vertical as well as the horizontal plane, without any distortion-inducing horn constructions. The pro-ribbon's power handling of 1.5kW (200ms) and RMS-to-peak power handling ratio of 1:15 are futher assets to the system's throw and dynamic headroom reserve.
Completing the three-way configuration for mid-frequencies, is a high-efficiency, horn-loaded 6.5-inch midrange transducer, coaxially mounted behind the HF driver; The LF section comprises two reflex-loaded 8-inch woofers with oversized 3-inch voice-coil Neodymium motor-structure; These surpass the output of even larger drivers, while maintaining a smaller face print.
System drive is taken care of by two channels (bi-amp) of the Sentinel amplified loudspeaker controller, with LR18-specific drive processing and feedback for each array configuration; The presets now also include Alcons' VHIR processing with phase-matching with any Alcons system.
The Signal Integrity Sensin pre-wiring ensures dynamic cable/connector compensation between the LR18/120 and ALC; this claims 1:1 sound reproduction, regardless of cable length and amplifier impedance load (system damping factor 10.000). The rigging system enables angle-setting on the cabinets without lifting the array, resulting in safer and faster set-up with minimal handling and a Working Load Limit of 24 cabinets under 10:1 safety.
The LR18/120 is an addition to the LR18 line-array system family, which comprises the LR18 line-array module in 90° horizontal dispersion; the LB18, the double 8-inch low-mid array extension of the LR18; and the LR18B, the accompanying flying/stacking subwoofer with new generation 18-inch woofer.
Array configurations with these components can be simulated in the Alcons Ribbon Calculator (ARC), Alcons' high-resolution 3D simulation program.
'The development of the wide-dispersion LR18 has been a direct result from requests from our The Ribbon Network (Alcons global dry-hire rental cooperation network) members group,' says Alcons' Head of R&D, Philip de Haan. 'Over the past year, we've been working on different dispersion patterns for all our products with our pro-ribbon transducer technology, resulting in different patent-applications.'
'In the LR18/120, we've been able to get a very wide, seamless 120° coverage up to the highest frequencies beyond 20kHz, while maintaining the unique projection properties of the pro-ribbon line-arrays; The unique coherent vertical dispersion, eliminates destructive interference, resulting in optimal high frequency throw and wind-stability.'
More: www.alconsaudio.com