FBT has announced the successor to its MaxX series – JMaxX promises ease-of-use and versatility for portable and installed sound applications including musicians, DJs, AVL contractors, rental sound reinforcement, corporate events, houses of worship, bars and clubs.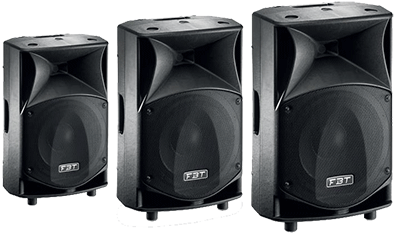 With its gas-injected forms designed to minimise enclosure resonance and reinforce strong low frequency performance, the JMaxX series of powered loudspeakers is available in three two-way models – the 14-inch JMaxX 114A; the 12-inch JMaxX 112A; and the 10-inch JMaxX 110A. All are equipped with FBT's latest 90° x 60° HF horn design which delivers improved projection, accuracy, and dispersion of the mid and high frequencies.
Each JMaxX model is actually four loudspeakers in one, with equalisation presets offeing intelligible response for vocals and floor monitoring; slightly boosted response in lounge bar applications; punchy and forward sound for DJs; and a general-purpose EQ setting that mirrors the original FBTMaxX voicing.
Common to all JMaxX models is FBT's latest generation lightweight 700W/200W Class D power amplifier with universal switch mode power supply, delivering abundant power and headroom to reproduce large transients without distortion.
XLR inputs and outputs, volume control, the EQ presets and filters, and ground lift switch are all conveniently located on a clearly laid out rear panel, making loudspeaker setup and operation intuitive and repeatable.
JMaxX's versatility is underscored by its mounting and fixing options. Mounting in fixed installations is made easy using the M10 suspension points or wall bracket flange plates, while portable use is facilitated by the built-in 35mm pole-mount socket. For stage monitoring, JMaxX's cabinet profiles are designed with 12°, 40° and 55° wedge angles, accompanying specific floor monitoring EQ presets.
More: www.fbtaudio.co.uk