Harbinger Pro Audio has expanded its Vari Series of live sound systems with the Vari 2300 powered portable loudspeakers, which claim 'affordable, lightweight power and exceptional built-in connectivity and DSP features'.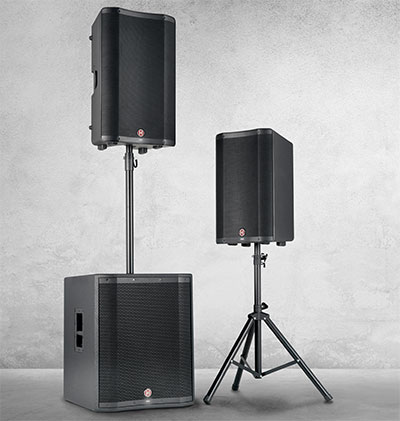 The new series comprises the Vari V2312 two-way loudspeaker with 12-inch low-frequency driver, Vari V2315 two-way loudspeaker, with 15-inch low-frequency driver and Vari V2318S subwoofer with 18-inch driver.
Vari 2300 Series two-way loudspeakers features a high-frequency compression driver, 2kW (peak) class-D amplifier that delivers ample power without transformers, and onboard DSP and mixing capabilities, packaged in a lightweight polypropylene enclosure. Their outputs are 126dB SPL for the 35lb V2312 and 127dB SPL for the 41lb V2315. With built-in pole mounts and angled cabinets for use as floor wedges, the V2312 and V2315 are equally suites to use as FOH and monitor speakers.
Each Vari 2300 Series loudspeaker incorporates a three-channel mixer featuring two mono channels, each with a XLR/quarter-inch combo mic/guitar/line input, and a stereo channel with 3.5mm stereo aux minijack, Bluetooth, and LR quarter-inch line inputs for a total of eight simultaneous inputs.
Onboard two-band EQ is easy to dial in, and a simple button allows selection from four DSP voicings: Standard, Vocal Boost, Live and Floor Monitor/Wall. A built-in DSP limiter offers dynamics control for musical-sounding system protection at high levels, and the new Smart Stereo feature uses a single XLR cable run between two Vari 2300 Series loudspeakers to control them both from the left-hand side.
The V2318S subwoofer offers a whopping 2.4kW of peak power for 134dB of LF in an 86lb package. It includes inputs and outputs for two speakers, a switchable 90Hz/120Hz crossover, phase reverse, DSP limiter, and built-in locking roll castors for easy load-in.