The new d&b audiotechnik A-Series introduces the company's augmented array – an concept combining variable splay angles, two approaches to acoustic optimisation, and advanced waveguide design. The A-Series addresses applications where coverage flexibility in both the horizontal and the vertical is paramount.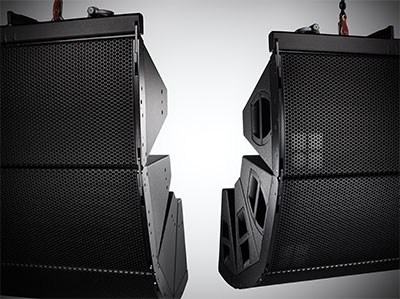 Marrying the adaptability of a point-source cluster with the control options of a line array, the system comprises the AL60 and AL90 loudspeakers, with ALi60 and ALi90 offering cabinets designed specifically for permanent installation. Using the appropriate frame, up to four AL60/AL90 and ALi60/ALi90 loudspeakers can be flown either in vertical or horizontal arrays. Variable splay angles between adjacent cabinets can be set in 5° increments from -10° to +10°.
Midrange Directivity Control (MDC) ensures frequencies between 200Hz and 2kHz are evenly distributed, regardless of the splay angle. With 60° horizontal dispersion and directivity control down to approximately 550 Hz, the AL60/ALi60 can cover a distance of up to 30m. The AL90/ALi90 – with its 90° horizontal pattern control down to 370Hz – is sonically and mechanically compatible, ensuring the acoustic result is consistent at any angle – regardless of configuration.
The AL60/AL90 loudspeakers share a passive two-way design featuring one 1.4-inch exit HF compression driver with a 3-inch diaphragm mounted to a wave shaping device, and two 10-inch neodymium LF drivers. The combination of sophisticated waveguide design and the symmetrical bipolar arrangement of the LF drivers allows a smooth overlap of the adjacent frequency bands in the crossover design. The wave segments of each cabinet couple without gaps and sum coherently.
The A-Series is compatible with a range of d&b amplifiers and subwoofers so that the system in its entirety can be tailored to meet specific application needs. The four-channel 30D, D20 and D80 amplifiers provide extensive user-definable equalisation containing two 16-band equalisers with parametric, notch, shelving and asymmetric filters as well as delay capabilities of up to 10s. The V-GSub and Vi-GSub are recommended for low frequency extension using the A-Series, with many more options available for mobile and install, large or small.
'The A-Series, augmented array provides our customers with a new set of scalable solutions that work as a standalone system or in combination with the full range of d&b systems,' says Product Manager, Wolfgang Schulz. 'The flexibility of the splay angles, the Midrange Directivity Control function and the ArrayProcessing capabilities enable the A-Series to address a huge range of applications with coverage consistency that is unparalleled.'
More: www.dbaudio.com