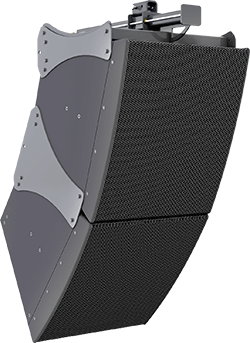 Community Professional Loudspeakers has announced the L Series LVH-900 loudspeaker system, employing beamforming technology designed specifically to address the unique coverage and projection challenges of large venues and stadiums.
Combined with Community's proprietary room prediction software and Amplified Loudspeaker Controllers, the L Series LVH-900 Beamforming Venue Horn precisely tailors the directivity of each loudspeaker, or array of loudspeakers, to meet the sound requirements in any application. Designed for exceptional performance in large venues, each LVH-900 consists of four 12-inch LF drivers, three Community M200 midrange compression drivers and four 1.5-inch HF compression drivers.
Using patent-pending techniques, all drivers integrate into a single tri-axial waveguide that fills the entire 36 31-inch face of the enclosure, providing pattern control to below 200Hz. The LVH-906 and LVH-909 offer 60° or 90° fixed horizontal dispersion, respectively, with each allowing vertical dispersion beamforming ranging from 60° to 20°, in symmetric or asymmetric configurations.
More: www.communitypro.com