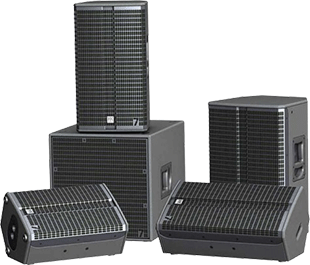 The latest of HK Audio's Linear series – which includes Linear 3 and Linear 5 – the five loudspeaker models that make up the Linear 7 portfolio include four mid/high units and one subwoofer.
The new models offer the most powerful and functional feature sets of any Linear product to date, offering greater performance for pro bands, DJs and PA providers. The emply Ethernet-controlled DSP technology that can be used to control existing Linear speakers using Linear 7's integrated DSP out. In addition, Linear 7 offers user-friendly cardioid options – the relevant preset can selected with the press of a button on the subwoofer. Linear 7 is also Milan-ready – supporting the new and upcoming digital audio network standard for audio streaming.
The full line-up comprises the L7 110 XA, L7 112 XA, L7 112 FA, L7 115 FA and L7 118 Sub A.
The L7 110 XA is a 2kW system, using a 10-inch LF and 1-inch driver combination, and offering networking technology, a rotatable horn (80° x 60°), M8 rigging points and DuoTilt positioning, along with Milan and Ethercon compatibility. The L7 112 and XA also deliver 2kW using a 1inch/1-inch driver combination and (70° x 50° dispersion. The L7 115 FA delivers 2kW with 15-inch/1-inch driver pairing and 60° x 60° dispersion. The accompanying L7 118 Sub A is loaded with an 18-inch driver.
More: www.hkaudio.com