Yamaha's updated DXRmkII range of powered loudspeakers feature an upgraded, 1.75-inch neodymium VC compression driver that delivers 1-2dB higher SPL than the existing series, with improved HF audio quality. The DXR15mkII can reach 134dB maximum SPL, with an LF response down to 49Hz, while the DXR12mkII can also produce 134dB SPL with LF down to 52Hz. The maximum SPL for the DXR10mkII is 132dB SPL, with 130dB SPL for the DXR8mkII. All models employ Yamaha's proprietary FIR-X tuning uses linear phase FIR filters for the crossover.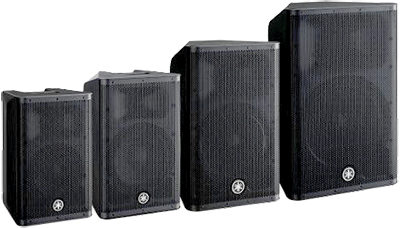 All models also feature D-Contour dynamic multi-band processing – FOH/Main or Monitor – to match particular applications. DSP also ensures all vital components perform at their maximum, even after extended durations of use.
Durable, non-resonant ABS enclosures, a portable, lightweight construction and sturdy steel grilles allow them to be used in a range of environments and applications, from FOH and wedge monitoring to simple amplification and installed environments. Mounting options include rigging points for standard eye-bolts, optional U brackets and a dual-angle pole mount socket. All models also feature a three-channel onboard mixer, flexible input/output connectivity and linking options to create a full sound reinforcement system.
As with the original DXR series, Yamaha collaborated with Nexo on the updated range: 'Working with Nexo was an obvious step in taking DXRmkII to the highest level of performance,' says says Yoshi Tsugawa, General Manager of the Yamaha Pro Audio Division. 'Liaising closely with Nexo engineers at their facility greatly contributed to the impressive SPL and unmatched reliability of these new loudspeakers. As a result, they deliver enhanced performance and reliability, allowing them to meet the demands of a wider range of environments that require professional, high-quality performance in a compact, lightweight package.'
The four-model DXR series targets the rental market, live music venues, houses of worship and performing artists. The full DXRmkII range will be available from Q2 2019.
More: www.yamahaproaudio.com