Martin Audio has announced its latest optimised line array, adding to the Wavefront Precision Series with the Longbow (WPL) edition.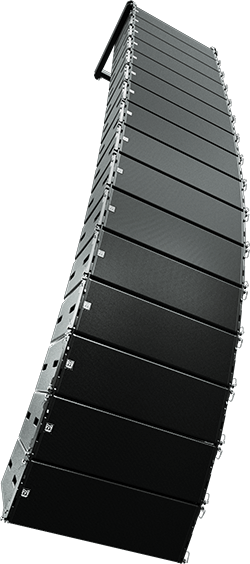 The Wavefront Precision Series (WPM and WPC) was launched in 2017, harnessing the optimisation technology behind Martin Audio's self-powered MLA Series systems in a new line array format with a scalable approach to external system amplification, and introducing the concept of scalable resolution.
Wavefront Precision Longbow (WPL) now brings this high performance, optimisation, flexibility and control to large-scale touring and installation applications. Designed as a complete system with external iKon multichannel amplifiers, automated Display optimisation software and VU-Net control platform, WPL provides financial accessibility to the higher echelons of touring and install sound – from stadium concert and outdoor festivals to arena and house of worship installations.
The complete system philosophy guarantees that WPL arrays perform predictably and effortlessly to their design maximum, as well as ensuring that they are compatible with other WPL systems throughout the world.
WPL is a full-scale line array that is capable of exceptionally high output for its size and weight. A three-way, bi-amped system, WPL's very high output is achieved by utilising Martin Audio's trademark horn-loading technology across all frequency bands – increasing the acoustic output of the low frequency section as well as the midrange and HF.
It incorporates 2 x 12-inch (300mm) drivers with Hybrid horn/reflex loading, 2 x 6.5-inch (165mm) cone drivers on a midrange horn which covers the vocal frequency range from 300Hz to 4kHz, and 3 x 1-inch (25mm) exit HF drivers operating from 4kHz upwards. Each section features innovative horn-loading techniques and refinements which raise the acoustic performance of WPL to a superior level – both in terms of output and smooth 90° horizontal coverage patterns of the mid and HF horns. Sonically, WPL's exemplary horizontal dispersion pattern translates to an incredibly consistent frequency response off-axis, with minimal variation from the on-axis response.
The maximum peak outputs of the LF, Mid and HF sections are 139dB, 140dB and 145dB per enclosure at 1metre and 6dB crest factor respectively – ensuring that a WPL array will meet the most demanding requirements for throw and clarity in the largest venues and outdoor events.
'Martin Audio enjoyed a record sales year in 2018 and we will strive hard to continue this trend in 2019,' says Dom Harter, Managing Director. 'WPL is a compelling proposition combining superlative sound, optimisation and control with quick deployment and trucking efficiency, all in an affordable package that we believe will delight customers. Importantly, this is also a shipping product with the first systems having already been delivered to two new US customers and we have taken orders for more systems around the world.
'Details of all these customer acquisitions will be announced in due course, but suffice to say, this is a system ready now for the new touring season alongside many installation opportunities.'
More: https://martin-audio.com