Next-proaudio has added the LA122.v2 to its LA family of loudspeakers, a redesigned version of the LA122 that uses the same internal components but a smaller and lighter box.
Intended for use in permanent installations as well as in touring systems, the LA122.v2 incorporates advanced neodymium speakers, custom made by B&C (12-inch/1.4-inch), capable of generating 1,120W of high-definition power for a very high acoustic pressure for medium to large scale applications. The system comprises three models, two line arrays elements, with different coverage angles (8ºx90º – LA122.v2 and 15ºx120º – LA122W.v2) and a companion subwoofer system allowing a wide configuration versatility – LAs118.v2.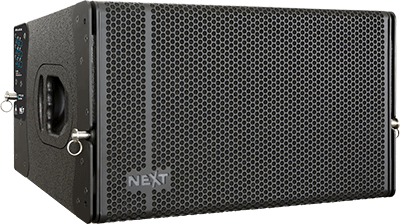 The Hybrid-Horn subwoofer LAs118.v2 is equipped with a custom B&C long-excursion, 18-inch neodymium woofer. As it shares the same rigging technology with the LA122.v2 and LA122W.v2, a flexible integration, both on the ground or on the top of the LA122.v2 arrays, is possible.
For touring applications, LA122.v2 can be associated to the N-Rak, a universal distribution platform for power, audio signals and network.
With the dedicated factory presets, the Powersoft X8 and X4 amplified controller integrated on N-Rak constitutes an extremely advanced and precise drive system for the enclosures.
The cabinets can be finished in a variety of colours to suit fixed installations.
More: www.Next-proaudio.com