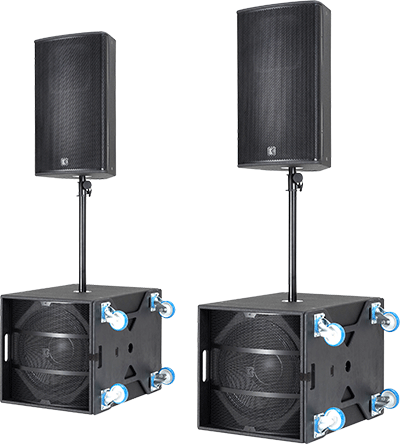 Outline has launched its 'latest breakthrough concept', the V10 and V15 portable loudspeaker systems.
Engineered specifically for users and performers who transport and operate their own sound reinforcement systems, the V10 and V15 claim to provide 'something genuinely new in this area of the market' in professional-grade systems delivering high acoustic performance and power in a portable, self-contained package, at a price point not previously achieved by any product of this quality. The price-to-power ratio sees the mono-sub V10 producing 4.5kW and the dual-sub V15 system delivering 12kW of audio power.
Like all Outline products, both V10 and V15 systems are entirely made in Italy, in the same factory as Outline's top-line touring systems and to the same standards. All enclosures are fabricated from top-quality birch ply, again the same material used in Outline's premium products, rather than the moulded plastic – this makes them not only much more durable but also better sounding. The V10 and V15 kits are fully supported by a 36-month factory guarantee.
More: www.outline.it