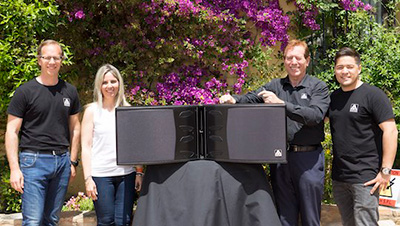 The Xcellence X212AF is Amate Audio's new flagship reinforcement system, a 2x 12-inch, full-range, high-performance, three-way active line array, featuring an advanced engineered V-shape cabinet that delivers 100° horizontal coverage and 8° vertical coverage.
Complementing the dual 12-inch LF drivers, are four 6-inch mid range drivers and two 3-inch HF neodymium drivers mounted on a proprietary waveguide. Latest third-generation class-D integrated amplification delivers 4kW of power, and the system also launches Amate Audio's next-generation DSP platfor for system control.
'The Xcellence X212AF puts Amate Audio at the forefront of the market for large-scale, high-performance line array systems,' says CEO and founder, Juan Amate. 'It represents an exceptional new product offering, an outstanding design achievement, and a flagship system of which we are immensely proud.'
'This new Xcellence line array system offers Amate Audio's exceptional standards of sonic performance and consistent frequency response for the biggest auditoriums and outdoor venues,' adds VO and CTO, Joan Amate.
More: www.amateaudio.com