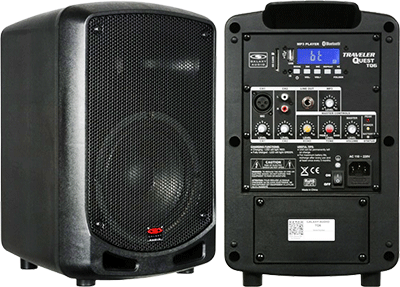 Galaxy Audio's new TQ6 claims to 'define portable PA' with its compact form factor and 10lb weight. Dependable performance and versatile features target classroom teachers, sports trainers, corporate presenters and houses of worship. Its ease of use, reliability, and affordable price will appeal to auctioneers, aerobics instructors and A/V rental companies.
With a high-performance 30W amplifier, 6-inch woofer and wide-dispersion 1-inch HF horn, the TQ6 offers high voice intelligibility and balanced programme sound. A wired mic input complements a versatile media player with an SD card slot, USB connector, RCA connections, and built-in Bluetooth compatibility for phone or MP3 player.
Individual and master volume controls, a tone control, and an echo feature support mixing and control of sources while adjusting voice clarity and music quality. The TQ6 may be AC powered or operated from its internal battery for up to 15 hours. It includes a carrying handle and standard pole socket.
The Galaxy TQ6 ships with an MAP of US$99.99.
More: www.galaxyaudio.com