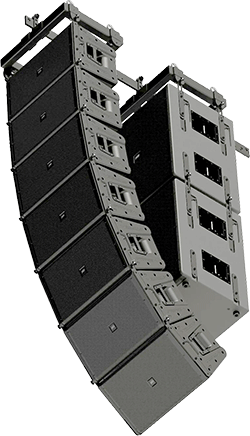 Peavey Electronics has announced Versarray Pro, a Dante-enabled, fully articulating line array system with ribbon drivers.
Promising power, clarity, simplicity, configurability and portability the Versarray Pro represents the company's new standard for mid-size powered line arrays. Caling on 53 years of sound reinforcement research and development, and a redundant audio input system, the system can be configured to use analogue, Dante, or Dante with analogue backup, ensuring reliable, uninterrupted performance. It is capable of providing maximum coverage and audio quality in a wider variety of applications than previously due in part to Peavey's FlyQwik hardware, which also enables the Versarray Pro to be deployed in a fraction of the time required by comparable systems.
The powered cabinets include network control for the advanced user as well as quick push-button control for set-ups where time is of the essence. Network controls include FIR filters, ten-band parametric EQ, noise gate, limiter, auto off, and all back-panel functions. The Versarray Pro also incorporates Peavey's Mark III ribbon drivers and proprietary Clear Form Waveguide.
More: www.peavey.com