Following the launch of the Nítid N12SM stage monitor, Amate Audio has added the N26, N36 and N46 models to the Nítid line-up.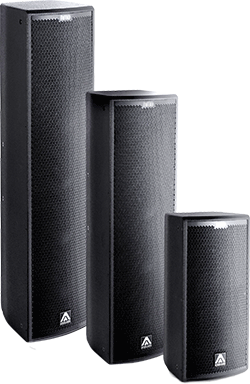 The Nítid active system employs calls on latest digital amplification and processing technologies, and advanced electroacoustic research to achieve 'exceptional performance levels from ultra compact speaker cabinet designs'.
The three new Nítid models are two-way, full-range compact systems –the N26, N36 and N46 are 2x 6-inch, 3x 6-inch, and 4x 6-inch column loudspeakers respectively. The new speakers draw on Amate Audio's earlier 6-inch woofer-based designs, and introduce a 3x 6-inch, model.
With evolutionary developments in cabinet configuration, DSP control and user interface, these systems comprise a complete high performance column array series, claiming full-range, high-fidelity signal reproduction with exceptional LF response and power handling, offering sonically cohesive, scalable sound solutions for a full range of fixed and portable applications.
Key to performance in a compact column is the oversize 6-inch full-range custom driver, with carbon-fibre cone, specially developed rubber suspension and neodymium magnets. The ultra powerful lightweight drivers provide near audiophile signal reproduction, extended LF response, and high SPLs.
The integrated 'plug-and-play' active power and control system includes DSP presets for setup and system configuration in the minimum amount of time. Amate Audio's universal switch mode power supply enables operation with any mains condition between 85V and 265V AC.
'Nítid is the culmination of our current development work in DSP, electroacoustic engineering and cabinet design; a new product series that we have been researching, designing and developing during the last two years, with the objective of defining new standards of power and performance in ultra-compact sound reinforcement,' says Vice President and Chief Technical Officer Joan Amate. 'Every model has been defined through a dynamic process of optimisation, calibration and configuration of components and form factor, to achieve best possible system performance. The result is exceptional signal reproduction and SPLs from more compact systems than was achievable before.'
See also:
More: www.amateaudio.com