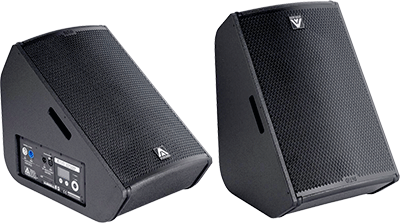 Amate Audio has introduced an ultra-compact performance loudspeaker series with the Nítid N12SM.
Intensive R&D behind the design has resulted in the highest attainable level of power and performance from the most compact cabinet geometry from the latest digital amplification and processing technologies, and advanced acoustic design and engineering.
Easy to operate and handle, the N12SM is a highly portable, powerful stage monitor that is capable of 128dB SPL and weighs 18kg. Its performance derives from the use of advanced 12-inch LF and 1.75-inch HF neodymium drivers, integral 700W third-generation class-D bi-amplification and onboard digital signal processing. Extensive system control capabilities are accessed from the control interface with SensitiveTouch keypad; a no mechanical component or moving part capacitive sensor technology, that is highly responsive, weatherproof and durable. Control settings include a selection of plug-and-play active power and DSP system presets that enable the N12SM to be configured for performance in mere seconds.
The low profile form factor allows the N12SM to be used for a close-field or front-of-stage monitoring. Designed by Amate Audio , the 2mm thick grille combines protection and the best perforation coefficient of its kind. The Polyurea finish and rubber protective profiles provide durable protection for the birch-ply cabinet, and electronic circuits and controls are protected against moisture.
Other features include a universal switch mode power supply, enabling operation with mains supplies between 90V and 264V AC. The backlit can be switched off or switched to indicate when the speaker system is limiting.
More: www.amateaudio.com