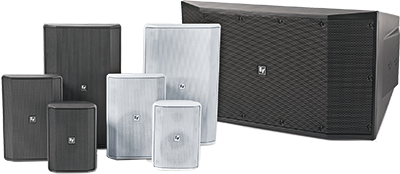 The Electro-Voice Evid-S series is the latest member of the Evid (EV Innovative Design) family of commercial loudspeakers for installed applications.
The series includes 4-inch, 5.25-inch and 8-inch two-way models with matching dual-10-inch and single 12-inch subwoofers, addressing a wide range of indoor and outdoor applications – retail environments, hospitality settings such as bars, lounges, patios, pool areas and restaurants; conference and meeting rooms, fitness clubs, performing arts and sports venues and houses of worship.
The enclosures use true weatherproof construction for outdoor spaces, confirmed bytesting above and beyond industry norms. All models are paintable and IP54 certified for weather resistance; an IP65 weatherproof version is available for the 5.25-inch loudspeaker cabinet and the 10-inch subwoofer models.
A new wall-mount system makes installation quicker and easier than prviously – attach the wall-mount (a built-in bubble level saves time) and terminate the cables inside, apply the paint cover to protect the wall-mount until construction is completed (when the cover can be removed), and then simply slide the pre-wired speaker with adjustable arm onto the wall-mount and lock into place.
Product overview:
· Evid-S4.2 (4-inch two-way cabinet).
· Evid-S5.2 (5-inch two-way cabinet).
· Evid-S8.2 (8-inch two-way cabinet).
· Evid-S10.2 (dual 10-inch subwoofer) .
· Evid-S12.2 (single 12-inch subwoofer).
More: www.electrovoice.com