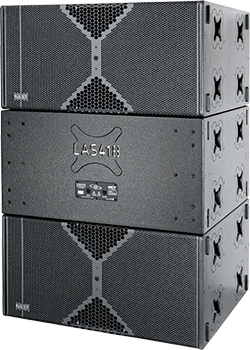 Next-proaudio has released a groundstacking version of its current LAs418 subwoofer, the LAs418G.
The LAs418 can be arrayed using optional external hardware in conjunction with its internal box rigging hardware. The new groundstacking omits the internal hardware, bringing a substantial weight reduction to the same design and performance.
LAs418G houses two long excursion and very high power 18-inch drivers providing the same ultra-low frequencies and very high SPL. The cabinet volume and optimised port tuning and extremely high peak-to peak excursion of the driver are capable of 24Hz at -10dB. As with the current version, the new LAs418G will be available as 2x8Ω or 2x4Ω (designed to be driven by Powersoft X series, X4 or X8 amplifiers).
Housed within a multi-laminate birch plywood enclosure and finished in textured black semi-matte coating, the enclosure size remains, 516mm x 920mm x 1030mm (HxDxW), delivering 9kW output. It incorporates eight handles, four per side, balancing the total weight of 87kg.
The LAs418G can be deployed in either standard or cardioid configuration using the parallel wired Neutrik NL4 connector on the front of the cabinet.
Next-proaudio has developed and is already supplying an updated touring power rack with Powersoft X Line amplifiers, offering to the customers a worldwide standard, LA Rack, to use in both rental and install. The LAs418G is available for order immediately.
More: www.next-proaudio.com