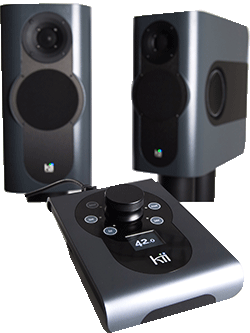 Claiming the first 'mini main monitor system' on the market, Kii Audio has released the Kii Three Pro studio monitor system.
The compact Kii Three Pro system is loaded with six drivers, with 1.5kW per speaker using proprietary Active Wave Focusing technology to controlling sound dispersion. Intelligent DSP provides a cardioid sound dispersion pattern down to the low-mid and bass frequencies, which otherwise must be achieved using wide baffles, large cabinets or soffit mounting (infinite baffle).
Alongside the Kii Three Pro, Kii Control, transforms the Kii Three into a complete reproduction system. Kii Control offers three additional inputs – Coax SPDIF, Optical TOSLink and USB (up to PCM 24/384kHz and DSD64/DSD128 on USB).
Easy to connect and use, the inputs are activated with touch switches around the volume knob, and a hardware input on the speaker itself supports analogue or digital input. The Kii Control is connected and powered through the included Cat6 cable, so no additional power supply is necessary, and it also boasts lossless volume control, mute and dim functions, latency switching, user-preset options, and a range of advanced settings accessed via an OLED display.
Key specs:
· Four 6.5-inch woofers, 1x5-inch midranges, 1-inch wave-guided tweeters (individually driven).
· Amplification: 6x250W full-custom Ncore driven by six individual DACs.
· Active Wave Focusing crossover filter.
· Frequency response: 20Hz-25kHz (±0.5dB).
· Phase response: minimum (best possible time coherence).
· Long-term SPL: 105dB.
· Short term SPL: 110dB.
· Peak SPL: 115dB.
· Controlled Directivity: 4.8dB (80Hz-1kHz, slowly rising thereafter).
· Size: 200mm x 400mm x 400mm, 8-inch x 16-inch x 16-inch (WxHxD).
· Weight: 17kg (37lbs).
· Inputs: Analogue, AES/EBU.
· Selectable 14-step correction for free-standing, near wall or in corner.
The Kii Thee Pro is priced at €8.700 (ex VAT) per pair.
More: www.kiiaudio.com