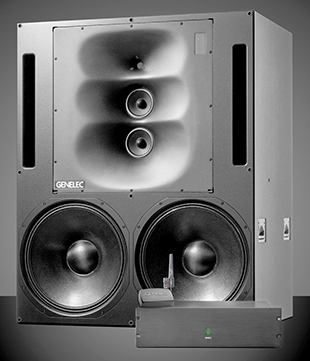 Genelec has released the 1236 Smart Active Monitoring (SAM) Main Monitor System and individually calibrated 3U-high Remote Amplifier Module RAM-XL – a large-format, flush-mounted main studio monitoring system.
The new design is based on the high-efficiency proprietary double-18-inch bass driver design of Genelec's 1036, offering a frequency response of 17Hz to 26kHz, and 130dB SPL at 1m. The design incorporates onboard DSP and class-D amplification. The enclosure features two high-linearity woofers, with two proprietary high-efficiency midrange drivers, as well as a compression tweeter, mounted in a very large Directivity Control Waveguide (DCW) enclosure.
SAM technology is part of Genelec's RAM-XL design. All crossovers, protection circuitry and driver calibration are implemented in the digital domain. In addition, the latest version (v2) Genelec Loudspeaker Manager (GLM) and AutoCal allow the speaker-to-room interface to be optimised.
AutoCal measures the response in the listening area and applies relevant compensation in the low and low-mid frequencies to minimise the detrimental room acoustic anomalies as well as the differences between various listening positions.
Complete solution-oriented Smart Active Monitoring systems eliminate guesswork in system configuration and acoustic performance.
'The 1236 is the latest addition to Genelec's extensive Smart Active Monitoring (SAM) product range,' says Genelec Inc Marketing Director USA, Will Eggleston. 'As our new flagship, it embodies the tightest design tolerances with the highest production standards possible and is perfect for a wide range of production environments and applications.'
Specs:
· Frequency response: ±2dB (21 Hz – 20kHz).
· Crossovers: 400Hz and 3.2kHz.
· Drivers: Two 18-inch (458mm), two 5-inch (125mm), 2-inch (50mm) compression driver/DCW.
· Amplifier power: Woofers two 1kW, mid 800W, tweeter 400W (all class-D).
· SPL: 130dB.
· Weight: 401lb (182kg); 25lb (11.2kg).
· Connections: XLR analogue input; XLR AES/EBU input/output; RJ45 control network.
More: www.genelec.com