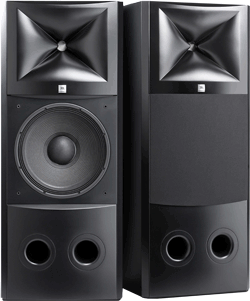 The largest speaker in JBL Professional's studio monitor line, the M2 Master Reference Monitor aims to bring world-class, large-format monitoring to a wide range of rooms.
'Leveraging the best of our JBL technologies, we set out to solve the problems that have prevented the use of large monitors in all but purpose-built control rooms,' says JBL Professional Senior Manager of Recording and Broadcast Marketing, Peter Chaikin. 'We feel the M2 Master Reference Monitor will be a game changer, which for the first time, makes a big, detailed world-class monitoring experience a viable option for artist studios, mastering facilities, small mix stages and screening rooms.'
The M2 uses JBL's new D2 Compression Driver with two annular diaphragms and two voice coils to deliver extended high frequency response and very low distortion at very high sound pressure levels. This driver is mated with JBL's new 2216ND Differential Drive 15-inch woofer also with dual voice coils, incorporating a patented wire application that reduces power compression and claims linear output regardless of playback level. As a result, monitor delivers in-room response of 20Hz to 40kHz for high-resolution recording formats, and 123dB/1m SPL, providing the necessary dynamic range for music and film production.
The design also uses a new patent-pending 'Image Control' waveguide that enables neutral frequency response, not just on-axis, but off-axis in the vertical and horizontal planes all the way down to the M2's 800Hz crossover point. The geometry of the waveguide allows JBL to claim high-frequency detail and imaging and natural timbre at any listening position, in a broad range of acoustic environments.
Crown I-Tech power amplifiers complete the system, providing >1kW to the 2216ND woofer and the D2 high-frequency driver. In conjunction with the M2's waveguide, digital signal processing in the Crown I-Tech or BSS Soundweb London processor models an ideal crossover, while providing the option for storage of EQ presets. In conjunction with measurement software, Harman HiQnet System Architect software allows central control of system calibration and tuning to address nonlinearity in the room, ensuring a high degree of accuracy particularly in the room-dependent low-frequency area, whether the M2 is free-standing, soffit-mounted or placed adjacent to a wall.
With a form-factor of 14-in deep, 20-in wide and 49.5-in tall, the M2 Master Reference Monitor allows flexibility of placement in artist studios, behind projection screens and in remote trucks.
The M2 Master Reference Monitor will be available spring of 2013 in stereo and surround sound configurations from select JBL Professional dealers.
More: www.jblpro.com/m2