Event Electronics has released its first three-way, close-field applications studio monitoring system, the 2030.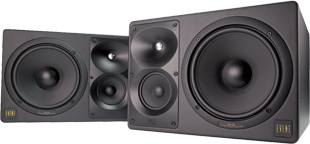 The Australian manufacturer is calling the 2030 a 'category defining' three-way studio monitoring system. 'Both the 20/20BAS and the Opal are truly legendary speakers,' says Event Global Sales & Marketing Manager, Damien Wilson. 'Now we are able to offer an accurate, detailed three-way system at a price that makes the 2030 the clear leader in its category'.
Rather than simply adding a mid-range driver to the 20/20BAS configuration, Event has devised a new waveguide assembly to house the speaker's mid-range and high-frequency drivers, as well as to optimise audio dispersion and power response characteristics.
For the critical mid-range a 3.5-inch cone transducer uses a pressed pulp and polypropylene cone, combined with an optimised magnetic circuit. The driver is loaded onto a shallow wave guide that results in increased sensitivity and output while generating very low distortion artefacts. Combined with an aluminum alloy dome tweeter, the mid-high wave guide assembly employs a set of electronic acoustic filters that are derived from Event's flagship Opal studio monitor, to maximise phase, time correction and frequency response characteristics. The resulting signal processing achieves controlled audio reproduction and smooth frequency response performance extending above 20kHz.
A key design feature of the 2030 amplifier is use of a proprietary, soft clipping power amplifier design topology that prevents the amplifier's output waveform from become jagged or harsh.
Event says the resultant monitor has 'a precisely engineered acoustic design, signal processing and amplifier technology, providing an incredibly detailed and wide soundstage with a bass response that far exceeds what most would expect from a box this size.'