The A25-M is an active three-way monitor from Swiss company PSI Audio, promising outstanding accuracy for audio professionals and the manufacturer's Precision Sound Image ethos.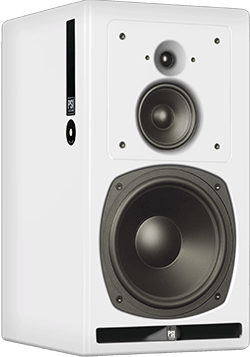 PSI has employed the flow guide established with its A23-M monitor in the the A25-M, providing faster low-end reproduction from a new woofer engine with a more powerful magnet alongside an entirely new driver for the midrange, the Extended Dome Driver (EXD).
PSI Audio developed their new midrange driver through a combination of the most popular driver types – dome or cone. The Extended Dome Driver combines positive aspects of both while eliminating the negatives.
Dome drivers tend to become either unstable in the middle of the dome or too heavy due to the use of rigid materials and can only ever offer a minimal bandwidth in the low end. Cone drivers are relatively weighty, which limits SPL, cause distortion and also restrict airflow with their heavy basket design. Even the dust cap can add distortion to the reproduction.
The EXD midrange driver developed for the A25-M combines a 4-inch, latex-and-carbon-infused paper cone membrane with a light polypropylene dome. Both directly connected to the voice coil. The EXD offers higher SPL at lower distortion, delivering improved accuracy. Additionally, the driver is built directly into the rotatable baffle with out the use of a basket.
This combination of technologies allows the loudspeaker to reach a 122dB max SPL per pair, and a lower frequency response of 28Hz.