Dynaudio is adding two new models to its Core loudspeaker reference series – the Core 47 and Core Sub. 'Core 47 fills the gap between the Core 7 and Core 59 models,' says Dynaudio Pro Product Manager, Rune Jacobsen.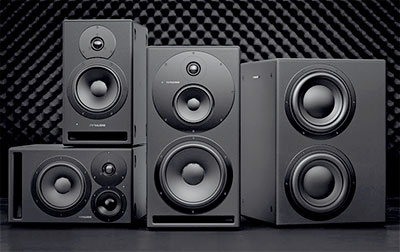 Core 47 is a compact three-way monitor with a 7-inch woofer, a 4-inch midrange driver and the new 28mm Esotar Pro tweeter, accompanied by the Core Sub powered subwoofer with four 9-inch woofers and two 500W channels of power.
Dynaudio reckons the Core series to be 'the most revealing reference monitor series in Dynaudio history – breathtaking accuracy for when every single detail must be heard in order to make wise mixing decisions. It introduces new technologies in all areas that focus entirely on reproducing the most accurate sound possible – everything producers need to hear'.
Core 47's footprint is comparable to Core 7, but it's a three-way design with a dedicated midrange driver for detail when reproducing sound in critical frequency areas, for instance, vocals. When measured precisely, all Core speakers are tuned to match perfectly within a 0.2dB tolerance.
Core Sub features the same DSP options as other Core monitors and is tailored to be the ideal low-frequency partner to any Core-based set-up. With four long-throw woofers and 1kW of power it delivers powerful and reliable low-frequency reproduction regardless of whether it's part of a master stack, or a surround sound or immersive speaker set-up with height and overhead channels.'
The series is also designed for extremely flexible positioning. Depending on the studio environment, monitors might need to be placed sideways or upside down, which might mean less-than-perfect contact with the surface area. Core solves this issue with four indentations on each side and a set of special pads to fit them. Dynaudio has also designed a bracket for Core 47 for wall or ceiling installation. With the appropriate adapter it can also double as a desk-stand.
Core 47 and Core Sub feature Pascal class-D amplifiers chosen after a series of intensive listening tests. The Core series is the first Dynaudio Pro range to have been fully developed in the company's advanced new R&D centre.