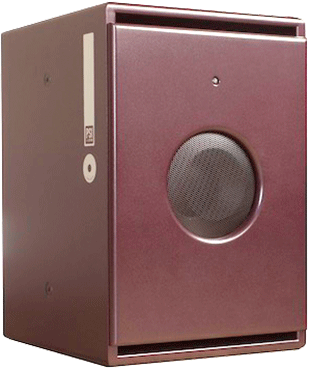 PSI Audio has added the A125-M compact subwoofer to its loudspeaker portfolio
Aimed at reference monitoring for music recording and film postproduction, the A125-M is designed to complement PSI Audio's A14-M, A17-M and A21-M full-range models, extending the frequency spectrum of both stereo and surround set-ups to cover material as low as 28Hz. With its efficient and transparent 150W class-G amplifier, the A125-M allows for high SPL while retaining the sound of the source material. The detailed, faithful reproduction qualifies this subwoofer for professional work environments, where precision is paramount.
Used with a set of A14-M, A17-M or A21-M speakers, the 90Hz bass roll-off filter gives a flat and linear frequency response over the whole spectrum. The subwoofer's upper frequency limit corresponds to the monitors' roll-off frequency, which turns 90Hz into a kind of crossover frequency. Set up like this, the A125-M is less of an individual speaker and more of an additional way enhancing the monitors.
PSI Audio subwoofers are popular in classical and acoustic music. In these genres, pinpoint accuracy in both frequency and phase is particularly important as the low frequency spectrum is paramount for instrument recognition. With its qualities, the A125-M gains appreciation even from subwoofer sceptics.
The PSI Audio A125-M is now available to bring existing stereo and surround set-ups to the next level. The MSRP including VAT is £2,300.