BAE Audio has announced the PDI passive direct injection box, which claims to have a new transformer design 'to lend any signal passed through it a pleasingly warm analogue richness'.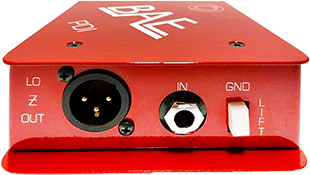 The PDI features Neutrik connectors, including a quarter-inch input and low-impedance XLR output one side, with dual audio through outputs on the reverse. This allows unique routing configurations, like sending a guitar signal both via the Lo-Z output to a console as well as via the dual Hi-Z through outputs to two separate amplifiers. A ground lift switch helps tame any ground loop issues on the fly.
The PDI's new transformer design is similar to those in vintage rack gear found in top studios around the world. Hand-assembled in California, the PDI features a gold-plated PCB and through-hole components for signal integrity throughout. Recessed switches and connectors combine with a rugged steel chassis to help it stand up to the beating of daily studio or stage use.
'Many DI boxes on the market will make your direct signal sound a bit sterile, but the PDI gives you a mix-ready sound for guitar, bass, keyboards or just about any other instrument,' says BAE Audio CEO, Mark Loughman. 'Whether you choose that sound in the mix as-is, or route it to outboard gear or amplifiers for additional manipulation, the PDI is a great tool for adding life to your direct sources.'
The PDI is shipping now and will retail for US$120.
More: www.baeaudio.com