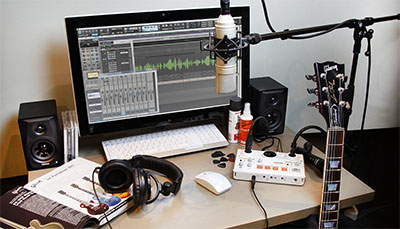 Having found favour with podcasters, Tascam is now targetting online gaming and streaming audio with its MiniStudio Series of audio interfaces.
MiniStudio version 2.1 for the US-32 MiniStudio Personal and the US-42 MiniStudio Creator includes updated drivers and firmware, as well as an updated user interface application for both for MacOS and Windows. Featuring a new driver architecture optimised for popular videoconferencing applications such Skype and Google Hangouts, MiniStudio delivers high-quality sound with real-time voice processing, effects and audio sharing, without the echo and feedback issues that plague computer-based communications.
In addition, the new architecture, along with the creative possibilities inherent in the Tascam MiniStudio, makes it an ideal counterpart to powerful game streaming platforms like Gameshow, Telestream's industry-leading broadcast application for online gamers. In addition to these new audio routing configurations, MiniStudio v2.1 includes a new Audio Ducking feature that automatically lowers the volume of background music or game sounds when the user begins speaking into the microphone.
'Tascam's MiniStudio is a game changing, full-featured interface that's perfect for Gameshow users,' says Telestream Product Manager of Live Streaming Solutions, Bryce Stejskal. 'This update adds support for the sophisticated audio routing and flexibility that content creators demand, while also providing an incredibly powerful - and cool! - way for gamers to take control of their audio experience. A perfect blend between power, and ease-of-use. We're excited to explore the possibilities for the MiniStudio with our online community.'
MiniStudio v2.1 is available as a free download.
More: www.tascam.com