Studio Technologies has released the Model 5205 Mic/Line-to-Dante Interface for broadcast, production and systems integration applications.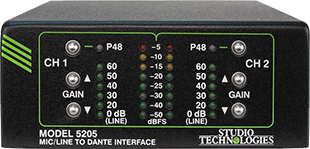 The Model 5205 allows two microphone or line-level signals to interface with systems that use Dante media networking technology in a variety of fixed and portable audio applications where one or two analogue audio signals need to join a Dante network.
The unit's adjustable gain and P48 phantom power allows almost any source to be handled correctly. Virtually all condenser, dynamic and ribbon microphones are compatible, as are most balanced and unbalanced analogue line-level sources. Simple user controls and an extensive set of status indicators help to ensure optimum performance is maintained.
The Model 5205 also allows for rapid set-up and ease of use. It is easy to deploy multiple units to integrate a distributed set of sources into a Dante application. The mic/line inputs are optimised for use in both permanent and portable/field applications. Extensive filtering minimises vulnerability to radio frequency (RF) interference. Other design compnents address ESD (static discharge) to ensure long-term reliablity.
The Model 5205's compact, portable enclosure allows it to be deployed wherever is needed. Alternately, it can be mounted, using optional brackets, underneath a table or on-air studio set. With its use of Power-over-Ethernet (PoE) for its power source, the Model 5205 can quickly be ready to accept signal sources from a variety of user-provided devices. Applications include TV, radio and streaming broadcast events; corporate and government A/V installations; and postproduction facilities.
The Model 5205 microphone or line-level analogue audio signals are connected using two 3-pin XLR connectors. Using front-panel pushbutton switches, the gain of the associated microphone preamplifier circuitry can be selected for 0, 20, 30, 40, 50 or 60dB. LED indicators display the status of the gain and phantom power functions, whose settings are controlled by push-button switches.
More: www.studio-tech.com