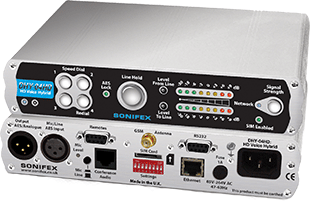 Sonifex has announced the DHY-04HD HD Voice & GSM hybrid for handling high-quality voice calls in broadcast studios in remote locations, for OB vans and trucks on the move, and in emergency situations where a telephone landline can't be guaranteed.
Using a 3G or GSM cellular network, the DHY-04HD HD can receive and make high-quality broadcast calls of 7kHz bandwidth, converting a 3G or GSM telephone call into the 4-wire audio signal to and from a connected mixing console.
The module used in the DHY-04HD is quad-band GSM and fiveband UMTS/HSPA+, so it is able to take and make calls on any 2G GSM or 3G network.
More: www.sonifex.co.uk