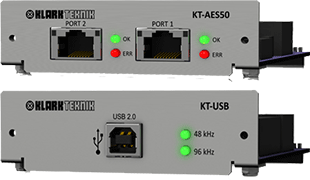 Klark Teknik has released two network modules, the KT-USB and KT-AES50, both compatible with the Klark Teknik DN9650 and DN9652 Network Bridges, and the Midas Neutron-NB expansion module.
The KT-USB is a class-compliant USB 2.0 Network Module requiring a single USB cable to connect to either a Mac or PC running any industry-standard DAW software. A total of 48 bidirectional channels are available at 48kHz and 24 bidirectional channels are available 96kHz. Alternatively, the KT-AES50 module provides a dual-port AES50 digital audio interface, which operates from the incoming AES50 clock or an external clock. Additionally, it features up to 48 bidirectional channels and operates at 96kHz and 48kHz sample rates.
'We set out to create a simple to use connect-and-go solution for recording and virtual soundcheck for our Midas Pro Series digital console range and these modules do just that,' says Andy Trott, SVP of Enterprise & Entertainment. 'Simply pop them into a Klark Teknik DN9650/2 network bridge and go.'
The KT-USB and KT-AES50 are available at a suggested MAP of US$159 and US$299 respectively.