Radial Engineering has released the JX42 compact switcher – a matrix allowing four guitars to be used with two amps in the studio or on a live stage.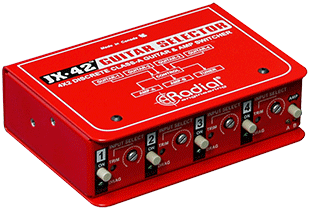 Housed in a 14-gauge steel 'bookend' casing, the JX42's I-Beam construction provides rigidity to protect the circuit board. Optional rack ears allow one or two JX42s to be mounted in a single 19-inch rack space.
Four input channels feature 'radio-style' on-off switches that turn the previous channel off when the new channel is selected. These are complimented with easy-to-see LEDs for visual feedback in dark environments. Switching uses opto-resistive couplers that ramp the signal up and down, eliminating any popping that could otherwise occur. This is particularly important with high-gain amps and concert-level PA systems. Inside, discrete class-A buffering circuit is employed to ensure signal quality, and each input channel sports a dual function 'set and forget' potentiometer that can be assigned as either a level control to match various active or passive guitar or bass signals, or can be set to 'Drag' for precise load correction when using passive magnetic pickups. Drag control replicates the tone and feel as if connected directly to a guitar amp. The potentiometers are recessed in order to leave the front panel clear of obstructions so that they are not accidentally changed during a busy concert.
Connection to the JX42 is via standard quarter-guitar jacks on the rear panel. Each input is accompanied by a dedicated 'thru' output for connection to a particular guitar with a specific amp or SGI extender to feed a distant pedalboard. When used with bass, the thru signal can be used to feed a direct box to send a clean signal to the FOH position.
There are two main stage amp outputs, of which the B output is transformer isolated to eliminate hum and buzz caused by ground/earth loops. In addition to the front panel switches, instrument selection may be accomplished via an optional JR5 foot switch or the new MR5 Midi translator. Selecting the amps may be done using a front panel AB selector switch or by connecting the optional JR2 remote footswitch via a TRS jack. Once connected, the JR2 derives its power from the JX42 which illuminates the AB select and mute LEDs. A dedicated tuner out mates with the mute footswitch for quiet on-stage tuning.
The JX42 is powered via a 15V DC supply which can be locked to secure the cable. It carries a MAP of US$349.99.
More: www.radialeng.com