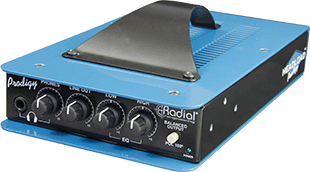 The Radial Engineering Headload Prodigy is a combination load box and DI that enables a guitar amplifier to be driven at a higher output for tone while running at a lower stage volume.
Like the company s original Headload, the Prodigy employs custom-made cement-encrusted resister coils to convert excess power from the amplifier to heat, and is able to accommodate up to 100W RMS. The unit may be used in three ways, depending on need. First, it may be used as a simple direct box connection via a built-in Radial JDX Reactor. This combines a reactive load with a proprietary filter bank to emulate the tone of a 4 x 12 half-stack miked with a Shure SM57. The second is as a load box attenuating 50 per cent of the output power for use on quiet stages. Third, it can be used without a cabinet for completely silent recording.
In all cases, the balanced JDX output is available. This is transformer isolated to eliminate hum and buzz caused by ground loops and is equipped with a Pin-1 ground lift and polarity reverse.
In order to optimise the playing experience for in-ear monitors, a dual-band EQ on the front panel is included. To extend connectivity, two quarter-inch outputs are included, with one that is post EQ, post JDX, and the other pre EQ, pre JDX. These can be used to feed additional amplifiers, effects racks or recording systems and adjusted using the front panel level control. Headphones have their own control for volume.
Housed in 14-gauge steel, the Headload Prodigy features Radial s book-end design that creates protective zones around the switches and controls. An internal I-beam construction adds tremendous rigidity, protecting the internal PC board from torque, which could lead to solder joint damage. One or two Prodigys may be rackmounted in a single 19-inch space using an optional rack kit. Power is supplied by an external 15V DC supply.
The MAP for the Headload Prodigy is US$399.99.

More: http://radialeng.com