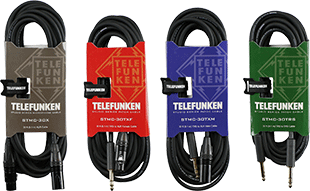 Telefunken Elektroakustik has expanded its line of XLR and TRS cables, with the release of 14 new models, offering various lengths for multiple applications on the stage and in the studio.
Telefunken STMC XLR and TRS cables feature four high-strand count, oxygen-free copper (OFC) conductors sealed in audiophile-grade, low-loss polyethylene insulators. A braided copper shield protects the conductors from RF and EM interference, to give 'sonic accuracy and clarity as well as the legendary tone Telefunken products are known for'.
Telefunken's new cables feature high-purity copper conductors, low capacitance for detailed, 24 karat gold-plated connectors, silver solder joints and flexible cable construction.