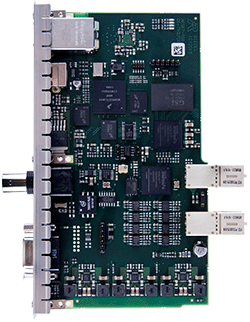 Riedel Communications has announced an AES67 client card for its Artist digital matrix intercom systems. With the existing AVB card for Artist and this new development, Artist now can accommodate both AVB and AES67 audio networks.
'Over the past 18 months we have made it clear that we don't want to tell clients how to run their broadcast communications infrastructures,' says Matrix Intercom Product Manager, Christian Diehl. 'We were very quick to embrace AVB and now, with this client card, we have a solution that gives our customers the choice to use whatever standard they want whether AES67, Ravenna, AVB, or Dante via AES67.'
The AES67 client card is easily installed into the Artist mainframe and then configurable through Riedel's Director software. The interface will also allow AES67 connectivity between the Artist and Smartpanels, as well as other third-party devices. The card features eight independent AES67 connections to simultaneously service multiple devices.
Riedel's AES67 client card will be available in 2016.
More: www.riedel.net