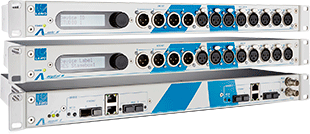 Lawo has extended its A__line family of Audio-to-IP interfaces for broadcast, live and install applications with the launch of A__digital8 and the A__madi4.
In combination with the existing A__mic8, these compact rackmount devices provide easy and reliable transport of analogue and digital audio via IP networks, and can be used to build IP-based audio networks. Based on RAVENNA technology, all A__line devices are compatible with the AES67 audio-over-IP interoperability standard, and are supported by Lawo's VisCon__navigator software for set-up of audio and video streams in IP networks without any deep knowledge of IT.
The A__mic8 features eight proprietary mic/line inputs (with mic preamps) and four line outputs. The combination offers a dynamic range of 118dBA, ultra low distortion (THD&N 0.0003% for inputs) and ultra-low equivalent input noise (EIN) of -128dBu@150Ω. The A__digital 8 has eight AES3 inputs and four AES3 outputs, and the A__madi4 has four Madi interfaces. All units also carry two Ravenna/AES67 Ethernet ports and eight GPIOs.
Designed for high RF immunity, the units all support audio operation at 44.1/48/88.2/96kHz , and require only a single cable for A__mic8 and A__digital8 PoE (Powered-over-Ethernet), and also full remote control via a single cable. Their fan-free hardware design and optional local PSU redundancy allow them to be used in a wide range of technical and practical applications.
More: www.lawo.com