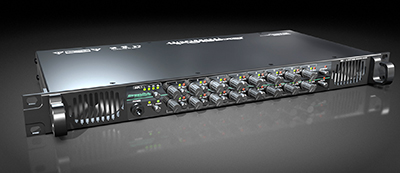 German pro audio connectivity specialists, DirectOut has announced the MI6 16-channel Madi audio monitoring unit.
The compact 1U device was initially developed for US mobile TV production company Game Creek Video – 64 units are now installed in a remote production facility for the coming US Open golf tournament.
MI6 provides three Madi inputs and outputs, headphones out, an analogue stereo line output and an AES3 output. Sixteen channels can be summed with individual levels onto a main mix which is then output via the device's integrated speakers and other outputs. All Madi outputs carry the signal of the active Madi input allowing several units to be daisy-chained.
Easy and straightforward to operate, the Madi signal is actively split into four banks of 16 audio channels. Each channel, which features its own volume pot and mute button, is added to the mix for either mono or stereo monitoring. An 'isolate' function mutes all channels of a bank for soloing one or several channels. The speakers may also be muted separately from the other outputs when required.
'When Game Creek Video asked us to develop the unit, we realised that they probably weren't the only ones with the same or similar requirements,' says DirectOut's Stephan Flock. 'We had a very tight timeline, but we nevertheless managed to deliver over 60 units in less than three months. The result is a powerful and flexible Madi audio monitoring system that delivers a 64-channel Madi signal via a single fiber link. This represents huge cost, space and weight savings in terms of cabling, especially for large-scale installations with many monitoring seats. After the Game Creek installation, we're delighted to make the technology available for all of our customers.'
More: www.directout.eu