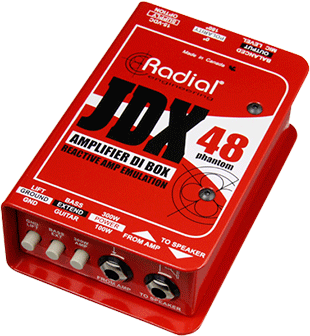 Radial Engineering has announced the JDX 48 amplifier direct box, the next generation of its JDX Reactor amplifier DI.
The JDX 48's design begins with the fully discrete class-A circuitry and transformer-coupled reactive load found on the original. This captures both the sound from the amp head along with the back electromagnetic impulse from the loudspeaker, which produces a more realistic rendering than using a resistive pad. This signal is processed via a multi-stage filter to emulate the tone of a 4x12 half-stack cabinet when used with guitar, or an 8x10 cabinet when used with bass. The JDX 48 also includes a Bass Extension switch for increased bottom end, and a 100W/300W switch to change the input capability.
'While many engineers were initially sceptical because of previous bad experiences with different boxes, the JDX has rapidly gained popularity thanks to its natural, consistent tone,' says Radial Product Specialist. Jay Porter. 'As soon as we released the JDX, folks started asking us if there was any way to power the box using standard 48V phantom. The included 15V power supply was fine for most applications, but space and power outlets are always at a premium on stage. Plus carrying multiple power supplies for different areas of the world is painful for our touring clients. We looked at ways to reduce the current draw of the JDX so it would run on phantom power without sacrificing the tone, and it wasn't easy. After several rounds of prototyping, we were finally able to reduce the current requirements of the class-A circuitry with the tone intact.
'Another request was to increase the power handling of the JDX. While the original was designed for guitar amps with a 100W output, many folks loved using it with higher-powered amps such as the Ampeg SVT. While this was possible at lower volumes, extra care needed to be taken to ensure that amplitude peaks did not exceed 100W.'
The recommended price of the JDX 48 is US$199.99.
More: www.radialeng.com