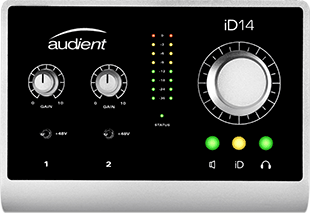 Audient's iD14 audio interface offers the company's the large-format console in a desktop package.
iD14 provides a pair of world-class Audient console mic preamplifiers, class-leading Burr Brown converter technology, console-style monitor control, JFET DI and ScrollControl.
As well as two channels of mic preamplification, the iD14 has a JFET DI input, designed to replicate the input stage of a classic valve amplifier. ScrollControl turns the iD14 volume encoder into a virtual scroll wheel that allows adjustment of DAW hosts, plug-in parameters and iD14's mixer app – wherever the mouse pointer hovers, the iD knob controls. It will also scroll through an iTunes library.
When not using the virtual scroll wheel, the iD button can be assigned to control iD14's monitoring features. Following the larger iD22, this includes Dim, Cut, Polarity Reverse, Mono Sum, Talkback and Cue Mix monitoring, all of which can be assigned to the iD button.
System expansion is available through the optical input connector, which supports both ADAT and SPDIF interfacing. This supports up to ten inputs via an eight-channel mic preamp, such as Audient's ASP880.

'The class-A mic preamps used are exactly what you'll find in our stand-alone units and consoles, and the best you'll find in any interface,' says Audient Technical Director, Tom Waterman. 'We spent a long time optimising the converter layout, auditioned each building block during extended listening tests and paid very careful attention to the multi-stage regulated power supplies to match the sonics and performance of our iD22 on bus power.
'iD14 is one of the few audio interfaces in its price range that offers Adat expandability, so adding external mic pres, such as the ASP800 can give you up to ten inputs – perfect if you need to record drums or if you simply need more channels,' he adds.
Key features:
Two class-A Audient console mic preamplifiers.
Burr Brown AD/DA converters.
Discrete JFET instrument input.
Main speaker output.
Independent class-AB headphone output.
Full monitor control (software controlled).
ADAT input.
Low-latency DSP mixer.
iD ScrollControl mode.
All-metal enclosure.
USB2.0 bus powered.
iD14 will retail at £199 inc VAT/US$299 MAP; shipping details are to be confirmed.

More: www.audient.com