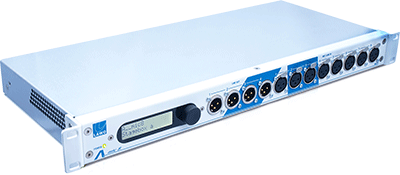 Lawo has announced the A__mic8, the first member of the company's new A__line family of high-quality Audio-to-IP interfaces.
A__line products are designed for easy and reliable transport of analogue and digital audio signals via IP network environments. Based on Ravenna networking technology, all A__line devices are also compatible with the AES67 Audio-Over-IP interoperability standard and include the company's VisCon__Navigator software application for set-up of audio and video streams in IP networks.
The A__mic8 combines eight mic/line inputs, four line outputs, eight GPIOs and two Ravenna/AES67 Ethernet ports in a 19-inch 1U-high device. It features Lawo's mic preamps, providing ultra-low distortion and noise, and audio performance with the capability to be remotely controlled via IP-network connection.
More: www.lawo.com